External event
Innovation center Titaan, Den Haag (NL)
HeroFestival 2023 Refresh your system
The HeroFestival 2023 will take place on Thursday 8 June, powered by HortiHeroes & RoboCrops. This unique innovation festival is for enterprising impact makers, ambitious talent (students, entrepreneurs and professionals) and special innovators from within and outside the Food & Flower industry. This festival is organized by FME and is part of the Smart Industry roadmap. Smart Industry is about digitizing the production chain. Often in collaboration with SMEs in field labs for high-tech.
View the unique interactive sessions and choose your favorite four. But there is more value to offer:
Connect with students, startups, scale-ups and professionals at starting companies from within and outside the Food & Flower industry.
Learn from experienced innovators and entrepreneurial impact makers such as Ramon Vullings (cross-industry expert) and Bas van Abel (Fairphone and De Clique) and ask them everything.
Get unique opportunities in the strength and potential of the coolest and most innovative industry in the Netherlands and learn about the challenges, innovations and new business models in our Horti/AgriFood industry.
Sign up for a pitch or showcase for our innovation community of HortiHeroes, RoboCrops and partners.
Share your ideas, missed, successful and fresh perspectives during interactive sessions where participants can actively participate.
Programm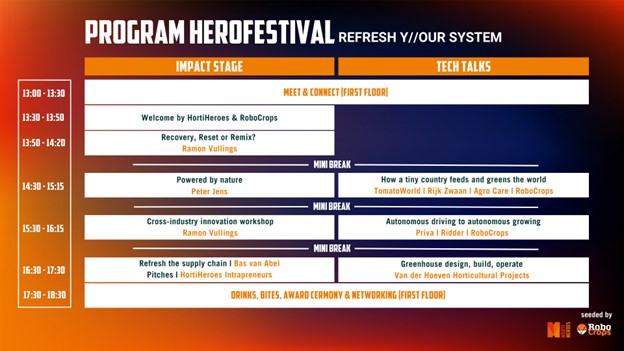 Follow us on LinkedIn
We share more news and events via our LinkedIn page.