In the world of urban planning and digital technologies, collaboration is crucial. This is evident from the collaboration between Argaleo, a Dutch software company specializing in Digital Twin technology for urban planning and decision-making, and our Innovation Agents Erwin Dolmans and Xander Pieterse.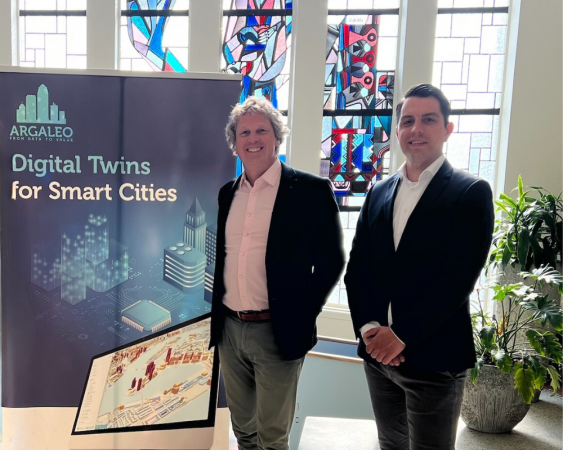 Innovation broker Erwin Dolmans and Jeroen Steenbakker, director of Argaleo.
Argaleo's journey to expansion began when they realized their Digital Twin technology had potential beyond their original focus areas. Argaleo's request for help was therefore twofold and related to exploring new markets for their technology and sharpening their product offerings to better meet the needs of those new markets.
Exploring new markets and optimizing the product range
The software company Argaleo contributes to the improvement of quality of life in the Netherlands with its 'Digital Twin' technology. With this technology, Argaleo creates insight into major social themes such as the built environment, mobility, safety and sustainability. Argaleo's Digital Twin technology was originally aimed at applications in Smart City, Mobility and Security. However, Argaleo saw the potential to expand this technology into other domains, such as city centers and nature reserves. Expanding into new markets meant looking not only at the technical aspects of the product, but also at how it was presented and how it could be customized based on the specific needs of potential customers. This is where the InnovationMakelaars, Erwin and Xander, came into the picture.
The role of the InnovationBrokers
Argaleo was supported by the InnovationMakelaars in exploring new markets and tailoring their technology to the needs of these markets. They conducted interviews and established contacts with potential customers in various market segments. This approach not only helped Argaleo understand the specific needs and challenges of each market, but also helped align their product offerings with customer expectations. Xander and Erwin's expertise and network helped Argaleo open new doors that allowed them to gather valuable insights. Argaleo also discovered new business opportunities and leads.
The collaboration between Argaleo and the InnovationMakelaars reflects how strategic partnerships and expert guidance can lead to growth and innovation. For SMBs looking to scale their technology or enter new markets, this collaboration provides an inspiring example of how the right support can make a difference. It shows that a targeted request for help, combined with the expertise of partners such as Xander and Erwin, can lead to great successes.
Future perspective
With the help of the InnovationMakelaars, Argaleo has opened the way to growth in new markets. Argaleo aims to integrate their technology into the decision-making of Dutch municipalities, provinces and other authorities. With the new insights and business relationships they have gained, they look optimistically to the future.
Do you want free advice?
Interested in the free advice of an Innovation Broker? We are happy to help you! Contact Ronald van Es.
Innovation Broker contributes to sustainable space travel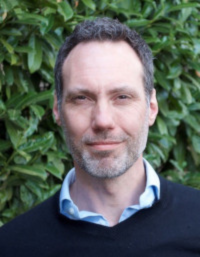 InnovationBroker Xander Pieterse
Xander is a business consultant with a broad background and therefore easily makes connections between the possibilities of high-tech and the opportunities and challenges in various sectors, both nationally and internationally. He is involved in business support for innovation for societal challenges, in particular for SMEs and start-ups.
InnovationBroker Erwin Dolmans
With his experience as a change manager at SMEs and corporate organizations, Erwin realizes collaborations between SMEs and external parties to test new market ideas. SMEs and start-ups in the field of sustainability and technology transitions can use Erwin's expertise to broaden their commercial activities.